★★★★★

Andrew was a great guy to work with on selecting this product. Customer service number one. For projects in the garage this is great.

Matthew Hoegler

Google
★★★★★

Love this little machine.You don't realize how much you need it until you have it.

Björk Jonatan

Google
★★★★★

Love everything about it!

Ryan Sharrow

Google
★★★★

Amazing tool!

Not crazy expensive, PortableTrace feature and cad is a must buy feature, Easy to use/

Small work size. Need to make an option for three sizes when buying. Should come with some kind of stand or at least a stand and table add on option. Need to make water resistant. Get better documentation and video together. Have some plasma cutters that you support solely and offer some settings as general rule

Yvette Castrovinci

Google
★★★★★

Mike MacTavish

Google
Cut anything with simple trace™
Simple Trace™ is an easy to use and intuative interface. Point to point or free hand, trace your template and ArcDroid™ creates a cut file instantly. Simply use the ArcDroid™ arm to follow the contours of your template and high accuracy encoders map your every move. Now all your cardboard cut outs are functional
cut files!
Precision cuts every time
Use popular CAM programs like Fusion 360, SheetCAM and Pronest to create your G-code and load by USB.
Start cutting now
Get started in minutes thanks to our easy setup and installation. Just follow four simple steps and you're good to go.
Trace It.

Save It.

Cut It.

Use it.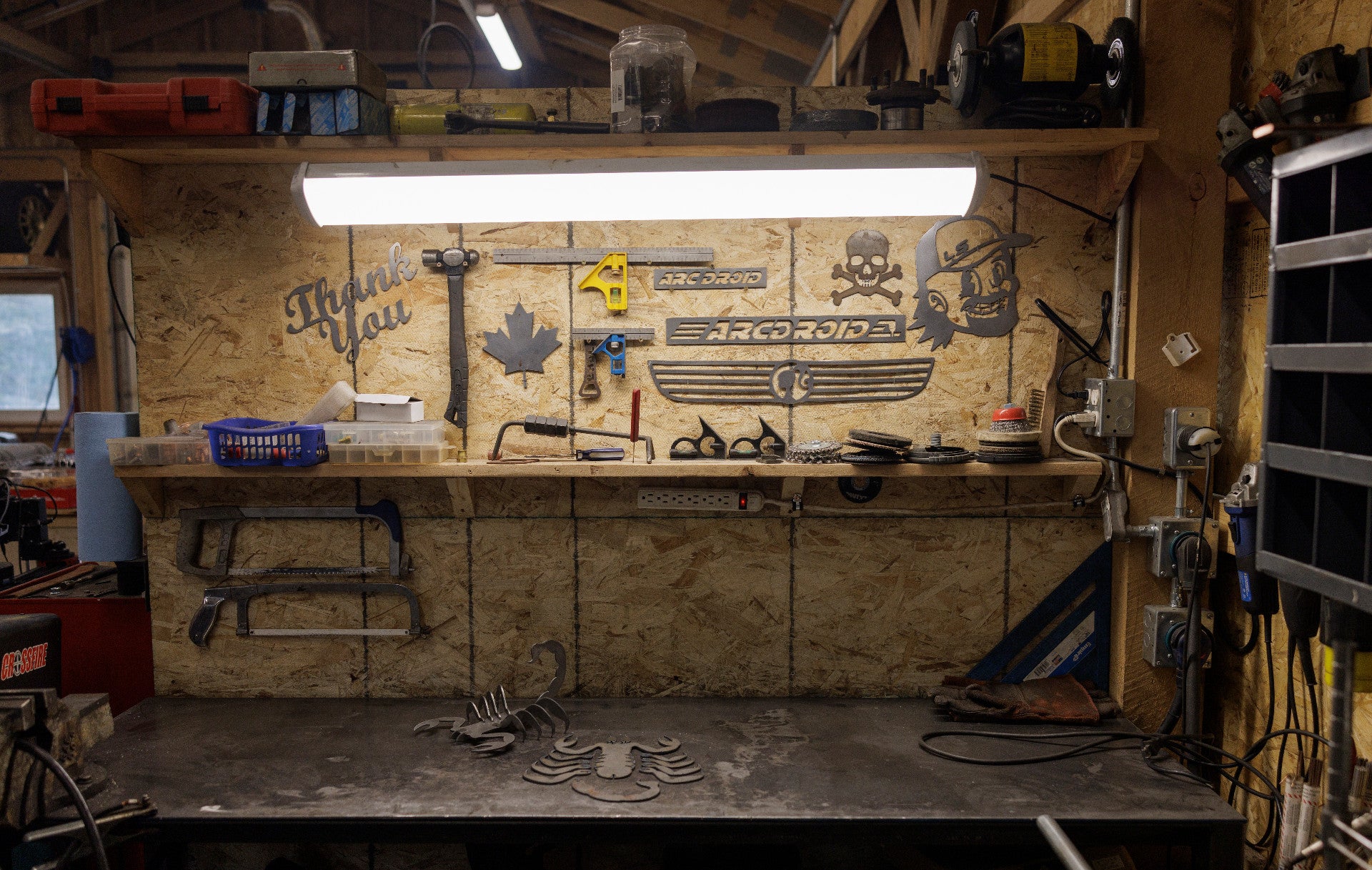 Hobbyist or Pro, ArcDroid™ has the Power
Incredible cutting power in a compact frame
Whether you draw it, download it or just imagine it; you can cut it with ArcDroid™. Any table is a plasma table with ArcDroid™. Precision encoders and high resolution drives mean ArcDroid™ accurately reproduces your design. Get fast, accurate and repeatable par ts from your plasma cutter.
Self Contained And Easy To use
All-in-one glove friendly touch screen interface which means no external PC required!
Use popular CAM programs like Fusion 360, SheetCAM and Pronest to create.
Tech Details
Onboard Simple Trace™ software means no PC or external software required
• Easy to read glove friendly touch screen Interface
• Works with most hand held plasma cutters *
• Compatible with CAM programs such as Fusion 360, SheetCAM and Pronest
• USB impor t of DXF and G-Code Files †
• Lightweight and portable less than 17 Kg (38 Lbs)
• Compact form factor 50 x 36 x 25 cm (20 x 14 x 10 inches)
• Can be repositioned easily to increase total cut envelope
• Programmable pierce and cut heights
• Adjustable kerf compensation
• Full mechanical Z probing on every cut start
• Torch height compensation feature for uneven material **
• Programmable pierce and finish delays
• Large cutting envelope, 660 x 380mm ( 26 x 15 inches)
• 65mm Z travel (2.5 inches")
• Max cut speed 5,000mm/min (200"/min)
• Max travel speed 8,000 mm/m (315"/min)
• Available in 120V and 240V versions
• CE Certified
• 2006/42/EC Annex I
• EN 60204-1: 2018
• EN ISO 12100:2010
* Requires low frequency start Plasma cutter. High frequency start plasma cutter can cause unpredictable results and
possible damage to the ArcDroid™
† File size limits apply
** Requires compatible plasma cutter with 50:1 divided voltage output . Or ArcDroid™ in line V/divider
ArcDroid™ Forums
A thriving community of pro fabricators, artists and hobbyists.
Join the Community
Software Updates
Keep your ArcDroid™ up to date with the latest Firmware and Software.
Download Updates